Dune: Extended Edition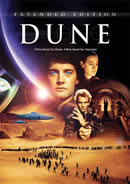 Disc 1 - Side A
Theatrical Version & Bonuses
Audio:
Subtitles:
Aspect Ratio: 2.35:1 (Anamorphic)
Region: 1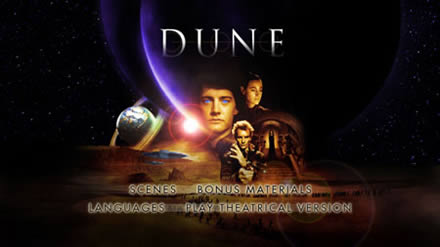 Title
Length
1
A Very Delicate Time (Main Titles)
4:47
2
The Guild Navigators Orders
5:47
3
House Atreides
19:53
4
House Harkonnen
19:23
5
The Conqueror Worm
15:10
6
The Harkonnen Attack
20:36
7
The Fremen
11:45
8
The Weirding Way
3:48
9
The Worm Conqueror
3:47
10
The Coming of Muad'Dib
4:37
11
The Water of Life
7:10
12
Wormsign
5:22
13
The Descending Storm
3:18
14
Alia The Avenger
1:12
15
The Last Harkonnen
4:00
16
The Word of God (End Titles)
5:36
Total Running Time:
2:16:19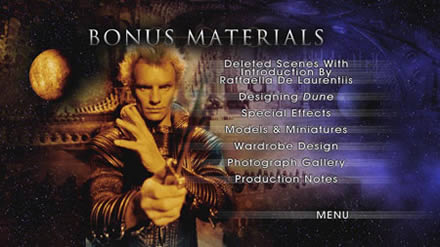 Bonus Material:
DELETED SCENES WITH AN INTRODUCTION BY RAFFELLA DE LAURENTIIS
Producer Raffaella De Laurentiis explains to the viewer that no final cut ever existed outside of the theatrical release. Along with deleted material from the film.
Running time: 17:18
---
Includes interviews with:
Giles Masters (set designer)
Ron Miller (illustrator)
Kevin Phipps (set designer)
Benjamin Fernandez (art director)
Steve Cooper (set designer)
Running time: 8:54
---
Includes interviews with:
Kit West (mechanical special effects)
John Baker (special effects floor chief)
Trevor Wood (special effects assistant)
Rodney Fuller (special effects floor chief)
John Hatt (special effects electronic unit chief)
Gary Zink (special effects assistant)
Running time: 6:00
---
Includes interviews with:
Charles L. Finance (special effects coordinator)
Golda Offenheim (production coordinator)
Emilio Ruiz del Rio (foreground miniatures)
Brian Smithies (model unit supervisor)
Eric Swenson (motion control)
Raffaella De Laurentiis (producer)
Running time: 7:02
---
Includes interviews with:
Bob Ringwood (costume designer)
Debbie Phipps (assistant cutter)
Michael Jones ("Milliner")
Mark Siegel (suit head of construction)
Running time: 4:50
---
PHOTOGRAPH GALLERY (100 pictures)
Never Before Seen Behind the Scenes Photographs and Original Artwork
43 on set photographs
57 artworks
---
PRODUCTION NOTES
11 Screens of notes about the filming of Dune.
---
CAST & FILMAKERS
Err, according to the insert with the DVD there is meant to be some notes on the cast and filmakers, but I can't find it!
---
Disc 1 - Side B - Extended Edition
Audio:
Subtitles:
Aspect Ratio: 2.35:1 (Anamorphic)
Region: 1
Title
Length
1
Prologue (Main Titles)
9:15
2
Orders from a Guild Navigator
8:44
3
House of Atreides
12:49
4
Face your Fears
12:07
5
House of Harkonnen
11:03
6
The Prophecy
8:30
7
A Traitor in the Midst
10:26
8
Worms and Spice
11:24
9
Betraying the Duke
5:35
10
Attack of the Baron
15:08
11
In the Forbidden Area
9:19
12
Saved by the Fremen
17:34
13
Teaching the Weirding Way
11:06
14
Water of Life
9:41
15
The Time has Come
8:53
16
An Impassable Storm
5:16
17
True Freedom
6:21
18
End Titles
3:28
Total Running Time:
2:56:48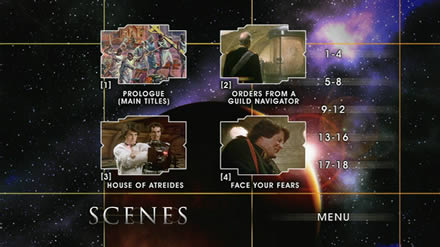 There has been a lot of confusion and mis-information about the aspect ratio of the Extended Edition on this DVD. Let me state here, for the record, that the entire 177 mins of the film is presented in Anamorphic 2.35:1 Widescreen, and yes, that includes the prologue.
Also, it is important to note that as the prologue was originally created for TV broadcasts of Dune it was created at 4:3, and so to present it in 2.35:1 Universal have heavily cropped the top and bottom of the image.
Here I have overlaid (and squashed to fit) the US DVD over the prologue from the French DVD. The American image is sharper, and a bit more image to the left, but has been heavily cropped top/bottom. The Prologue is in 2.35:1 ratio too, not 4:3, or even 1.85:1 but Anamorphic 2.35:1.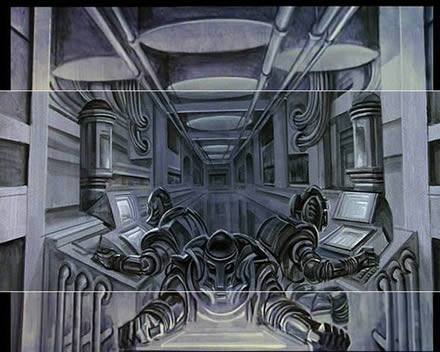 For a great breakdown of the differences in the Extended Edition checkout Building the Perfect Dune by Sean Murphy. Originally published in Video Watchdog Magazines 33 and 34 it is an excellent comparison between the two edits. Please note that when the article was originally published the Extended Edition was not available in Widescreen format, and so some of the information (Widescreen Film Version Vs. Panned and Scanned Television Version) is not applicable to this DVD.

---
Summary
This is a great Dune DVD package, Region 1 finally has a good Anamorphic copy of the Theatrical version on DVD. Also, for the first time officially, Region 1 gets the TV edition released on DVD - and it is in 2.35:1 Widescreen - a world first.
The extras are good, with deleted scenes being shown for the very first time too. The only drawback is that Universal have tried to fit everything onto a single (double-sided) DVD. This seems to have created a space issue, and the DTS soundtrack that was originally announced has been dropped, and there must have been many more deleted scenes that could have been included given the space. What Dune deserved was a 3 DVD set, with an entire disc of extras. Perhaps when Universal release Dune on HD-DVD more scenes will appears, Dune fans will just have to wait and see.
---
Other reviews of Dune: Extended Edition