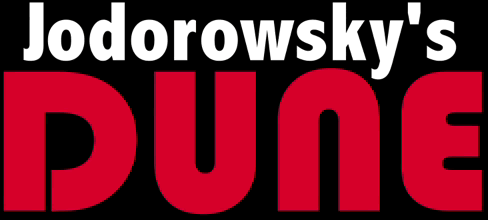 Jodorowsky's Dune to premiere at Cannes 2013 Director's Fortnight
23 April, 2013, Jodorowsky's DUNE will premiere at the 2013 Cannes Director's Fortnight / Quinzaine des Réalisateur
The 2013 Selection | Directors' Fortnight
Production underway on JODOROWSKY'S DUNE
It was announced today (May 12, 2011) that L.A. based Snowfort Pictures, Camera One of France and Koch Media of Germany have begun production on Frank Pavich's sci-fi documentary JODOROWSKY'S DUNE. Shooting has wrapped in France, Switzerland and the U.K. with filming to continue this summer in the United States. Picture will be completed by late fall.
The documentary covers cult film director Alejandro Jodorowsky and his 1974 attempt to create a big-screen adaptation of Frank Herbert's seminal science fiction novel, DUNE. While the ambitious production collapsed after two years, Jodorowsky's team of then relatively unknown concept artists continued exploring the themes and styles started on the project and ended up changing modern science fiction forever: H.R. Giger went on to Ridley Scott's masterpiece ALIEN, Dan O'Bannon wrote ALIEN and TOTAL RECALL, Jean "Moebius" Giraud created artwork and futuristic worlds for THE EMPIRE STRIKES BACK, TRON, and THE FIFTH ELEMENT and Chris Foss would go on to work on ALIEN and SUPERMAN.
Jodorowsky, whose films SANTE SANGRE, EL TOPO and THE HOLY MOUNTAIN have recently been released on Blu-Ray in the U.S. and who can currently be seen acting in Kamen Kalev's THE ISLAND which screens in the Director's Fortnight, is excited to share his vision of what might have been, "Failure simply makes you change your way. And I hope, in this picture, the audience will be able to see what I did. It's an incredible world."
Director/Producer Pavich researched JODOROWSKY'S DUNE with producer Stephen Scarlata. The two previously worked together on the cult-underground music documentary N.Y.H.C. Pavich also co-produced DIE MOMMIE DIE (Special Jury Prize - Sundance 2003) before concentrating on television production. Scarlata has mainly focused on feature screenplays. The film is being produced by Travis Stevens of Snowfort Pictures (A HORRIBLE WAY TO DIE), executive produced by Donald Rosenfeld, who has Terrence Malick's THE TREE OF LIFE in competition at the festival and co-produced with Michel Seydoux of Camera One, who have Alain Cavalier's PATER screening in competition.
Stevens in announcing the production said: "This is a rare, intimate look at the creative process of one of history's most mind-blowing filmmakers. The access he afforded us was incredible. We're excited to be partnered with Camera-One and Koch Media in order to share it with the world."
Moritz Peters of Koch Media adds: "Fans of Jodorowsky, Giger, O'Bannon and the rest of the artists will now have a chance to see how they approach their work. We're avid supporters of adventurous sci-fi films, and happy to be co-producing one that covers such a fantastic subject."
With interviews completed with Alejandro Jodorowsky, H.R. Giger, Chris Foss, Michel Seydoux, and the surviving original team, the production heads to the U.S. to conduct interviews with industry executives, filmmakers and film critics to put the film into perspective.
Adds Pavich, "I am incredibly grateful that we are the ones who are getting to tell the story of this never-realized film from one of the world's greatest film directors. We hope to be able to impart to the audience a taste of what Jodorowsky's version of Dune might have been like."